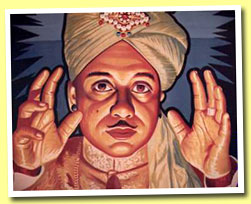 "When the soothsayer's orb speaks of bloodshed, just pray that the blood is not yours"
From deep in the forest of Asheville, I've looked into my orb and seen the demise of 4 teams. 4-4 on Greensville upsets, including the victory of the hapless BALLS over Buck Naked Ballers last week. If my orb could just tell me when to not start players who will single handedly destroy my chances I would be in the money.
As the trade deadline came and went, I put Donovan McNabb on the block to help add depth to my once mighty RB roster. After realizing he had left his cohones back in Ashland Dirty didn't bite on the trade and look what happened. 4 TDs from McNabb after a game where he cost me a point that would have led to my victory. Just goes to show...Dirty is a woman.
Week 13 Spotlight:
With 4 playoff spots still open, its hard to figure out who is going to make it out of the 5 teams still in contention. So let's take a gander at those match-ups:
Ghost of KoKo G vs. 4th and .30
This is the week Shaun needs a win most. After winning two straight he is still in 9th place, but with a Favre loss he can survive for another week. Kevin Smith didn't help in on Thanksgiving and Ashton had great production for Kurt Warner and Lendale White Whale. So if KoKo has an ace up his sleeve now is the time to play the card.
Buck Naked vs. The McNabbless Nizzle
Both teams should make the playoffs, but this match-up is more about positioning. Buck got an early lead on Thanksgiving thanks to David Akers and Larry Fitzgerald (my favorite WR), but Dirty has some studs yet to play and this one should be close. I like Dirty to steal the "W", but both teams will clinch playoff spots by Tuesday morning.
BALLS vs. Favre's Fiasco
Fiasco indeed. Yahoo mouthpieces are benching Mike Turner this week, so I doubt the future looks bright for teammate Norwood. If Web wakes up in time to put Bush back in the lineup then he should be able to clinch a playoff spot this week...if not...He has to pull the captain hat over KoKo G's eyes Week 14 for playoff glory.
Upset Special
:
Asian Ballz over Bill's Corn Pads
Sure McKenna got huge games from Romo and D. Jackson, but let's face it...he is selling crack/cocaine. The fantasy gods don't look fondly on pedaling poison to school children, so I expect Dave to muster all his talent and take out the first place team this week.
As for me, the last time I face the Cunt Returner, I let loose the fury of 1000 Wobblers to the tune of 265 pts. Lets see if I can can piss Ephrim off again.