A week away from what should be the best fight card of 2008; I considered writing about and predicting the outcomes of UFC 92. However, a man of vision like myself must not be afraid to look ahead into the future and beyond. So I put the UFC 92 entry on the back burner and decided to write about some of the guys that I think will have a breakout year in the UFC '09.
Lightweight
Kenny "Ken Flo" Florian-
The feared grappler turned striking machine had a phenomenal 2008 beating the likes of Joe Lauzon, Roger Huerta and Joe Stevenson all in convincing fashion. The only thing missing was the shot at the title, which has been put on hold due to the BJ Penn/ George St. Pierre showdown going down in January. Penn is going to be a great test for Kenny, who should be able to hold his own on the ground and standing. Florian has an incredibly balanced attack and should be considered just as dangerous as GSP in the promotion's most stacked division.
Welterweight

Thiago Alves-
One of the most notable fighters from American Top Team in Florida; Thiago's 2008 run was very similar to that of Kenny Florian's. He simply dismantled Matt Hughes, when a flying knee knocked the holy ghost out of crazy Christian and then went on to make Josh Koscheck regret taking a fight on such short notice later in the year. Also similar to Florian he is waiting for the outcome of the Penn/ St. Pierre for his title shot. Alves' Muy Thai skills will give GSP a run for his money and even if he loses out, I'm looking forward to his match with Diego Sanchez.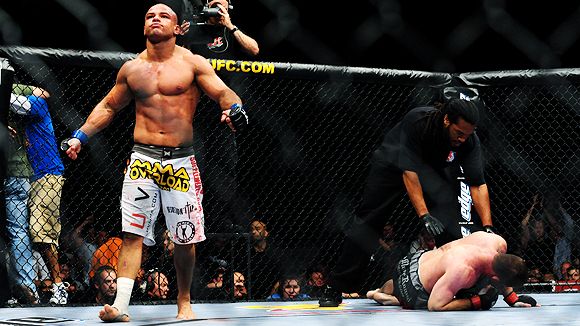 Middleweight
Demian Maia-
Proof that a submission artist can find success in the UFC. His fight with Jason MacDonald was one of my favorites of the year as each countered and reversed submission attempts leaving Maia the winner by rear-naked choke. Maybe the fight with mma blog whipping boy Caleb Starnes left Nate Quarry a little too confident, because Maia had their fight won within in the first minute. Middleweight champion Anderson Silva may be out of reach for the moment as he eyes retirement and bigger challenges, but Maia should use 2009 to make his case as one of the best fighters in the weight class.
Light Heavyweight

Lyoto Machida-
Lyoto's defensive point karate style rarely finishes fights, but when guys like Rich Franklin and Brandon Vera openly avoid him you know the potential for a superstar exist. The guy refuses to trade punches with you, but that doesn't mean you won't be huffing his feet, knees and fist when you fight him...ask Tito. His next opponent, Thiago Silva, shares a record of 13-0 but doesn't have the hit list of Lyoto (BJ Penn, Sokodoju, Franklin, Ortiz). Even when he challenges for the title in 2009, people will still insist that he can't finish and lacks KO power. They may be right, but he just keeps winning.
Heavyweight
Brock Lesnar-
As much as I hate it, Brock is here to stay. The UFC baptized him in fire by pitting him against veterans in his first 3 fights. The wins over Couture (hey I spelled that right on the first try) and Heath Herring overshadow his loss to Frank Mir. Who amongst us has never been caught in an ankle lock? Smart money says he will be fight Big Nog for the title mid 2009, but even if he ends up with a Mir rematch it's going to be an interesting year for the real life end boss. His strength alone is scary, but combine that with his freakish speed and ability to straight up slaughter opponents pinned under him and you have a recipe for the centerpiece of UFC's heavyweight division.
People I'm watching outside the UFC


Shinya Aoki-
The panted submission artist from Japan is set to fight New Year's Eve under the Dream card, which I consider to be on par with the UFC. This guy is the truth. Watching the positions he puts his body in to tap people is like watching Dhalsim in realy life. If for some reason he finds his way to the UFC in 2009 it could spell disaster for the lightweight elite.
Andrei Arlovski-
Still my favorite MMA fighter. We will find out what sort of year could be in store for Andrei early on when he fights the world's #1 heavyweight Fedor. Fedor is a machine, but does have difficulty when it comes to strikers. He has never faced anyone with feet and hands swift as Arlovski and couple that with almost a year of training with boxing legend Freddie Roach and I say this fight is more even than most propose. If Affliction folds after their "Day of Reckoning" event, then Andrei may have to consider a return to the UFC. Whether or not he will find open arms is a question.