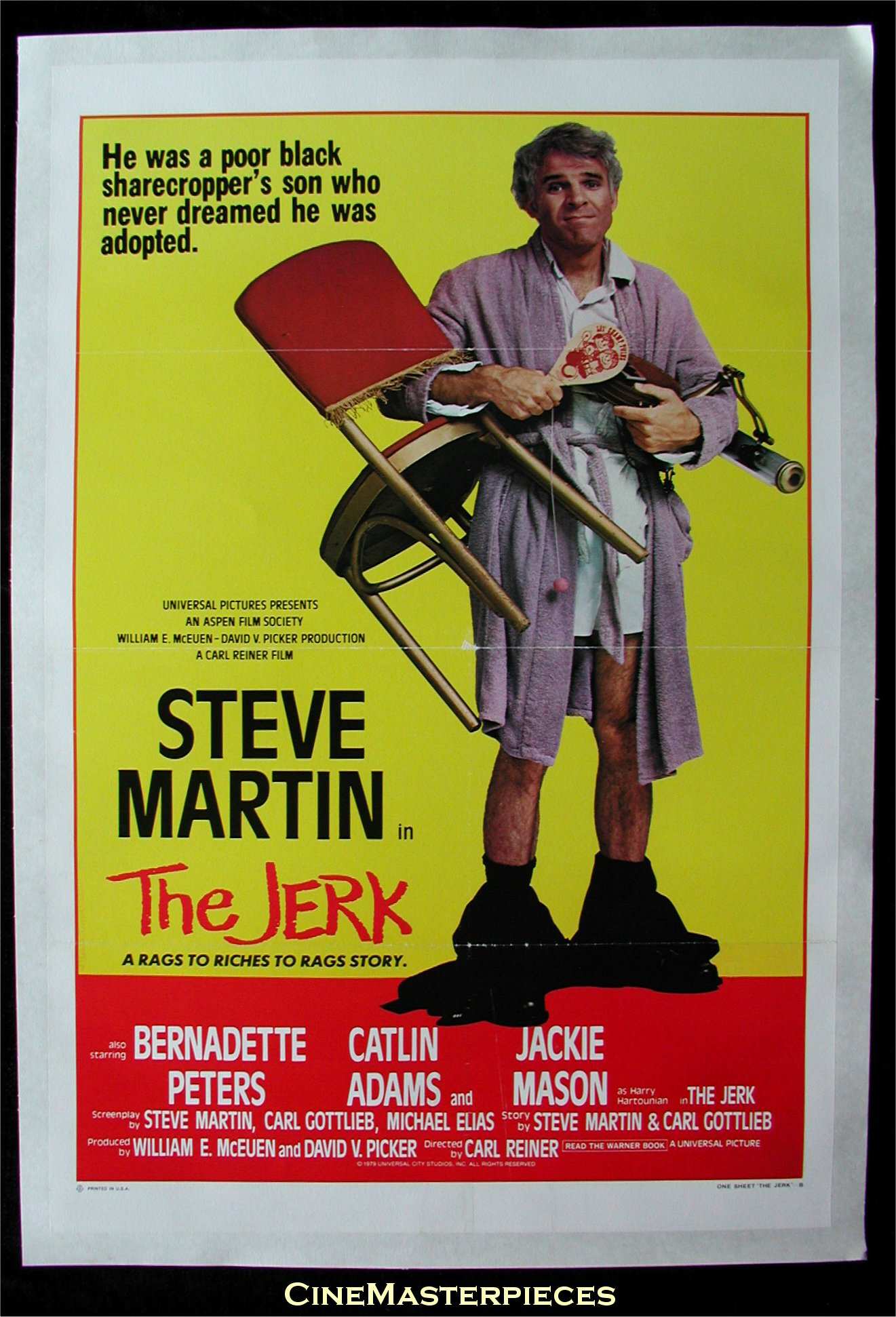 My friend Matt was the first person I heard insert snippets from The Simpsons on a mix. I thought it was a great way to add humor to a mixtape, therefore I bit his style and bit it hard. However, recently I've been using snippets from Aqua Teen Hunger Force and short segments of Chris Rock and David Cross stand-up routines. I've always wanted to make a mix that had a cool theme to it though. Before I made this compilation I knew I wanted to use a bunch of quotes from one movie and try to portray a story in about 5 or 6 tracks. I chose the Steve Martin movie "The Jerk" not only because it's a hilarious film, but I think Navin 's story is on some level familiar and the scenes I selected to pull for the mix correspond to recent events in my life, or things that have been on my mind. I would really like to give this mix to a lot of people and see what feedback I get on it. Therefore, if you want a copy drop me comment or tell me in person and I'll cook one up for you. Here is the track list with some comments.
The Songs:
"The Guidelines"-Aceyalone: This is not only Acey's theme music, but also probably one of the dopest tracks he ever touched and that's saying a lot.
"Pedestal"- Portishead: Beth's voice and the trip-hop instrumental makes this one of my favorite songs from this very missed group.
"Hand of Doom" - Black Sabbath: I was trying to figure out how to get metal on this mix. The solution was easy. Take my favorite song from my favorite metal band and there you have it. "You're having a good time baby, but that won't last....Your mind is full of things...you're living too fast. Go out and enjoy yourself...Don't bottle it in. You need someone to help you...push the needle in."
"Smoke and Mirrors"- RJD2: I think a lot of people forgot about this song on Deadringer. That's too bad.
"Bradley Smith"- At The Drive-in: One of the most underrated punk bands of all time. Too bad Sparta and Mars Volta don't bake my beans the way ATDI did.
"Super Bad"- James Brown: "The way I like it...is the way it is. I got mine...don't worry about his." Thanks for all the good work James.
"Blue Skies"- Ella Fitzgerald: Please Ella, don't hurt em.
"Blue Flowers (Prince Paul Remix)" - Dr. Octagon: Before there was Madvillian there was Kool Keith aka Dr. Octagon aka Black Elvis. If you are not going to make sense in your lyrics you might as well have a good beat.
"Spanish Bombs" - The Clash: I can't believe I never put this song on any other mixes. You should be well aware of the The Clash. If not, listen and regret your years of ignorance.
"Today"- Tom Scott: Pete Rock made it a hot sample, Tom Scott made it a hot song.
"Can't Wait" - Redman: Outside of Public Enemy, Redman was one of the first hip-hop artist I followed. Yes 95% of his subject matter is about marijuana, but at least he'll pass on the glass.
"Djobi Djoba" - The Gypsy Kings: First heard this song on an old ZERO skate video. Also heard it 1000 times when I was studying in Spain.
"Hoofprints in the Sand" - Sage Francis: Bar none the best emcee out there today. Three lps, each one better than the last. "Seriously I know that you pray when the chips are down. But act different when there's atheist around." Too close for comfort there Sage.
"God's Bathroom Floor"- Atmosphere: Old Slug = Good Slug.
"If you want me to stay" - Sly and the Family Stone: After last night, this song makes so much more sense. Leave it to life to teach you the lesson and music to tutor.
"Bad Dreams" - Lyrics Born: The blues can be very therapeutic. Lyrics Born is one of the most versatile emcees/musicians I have ever come across. Please check out the albums Laytrx and Later That Day.
"Wicked and Weird" - Buck 65: Baseball player turned Dj, turned emcee, turned producer, turned country artist. He may not be that exciting but he does all the aforementioned jobs extremely well.
"Pass the Plugs" - De La Soul: Couldn't think of a better way to end the mix. Take em back to a time when hip-hop was being done better than it is now. "Excuse me yall, while I fill my potholes."